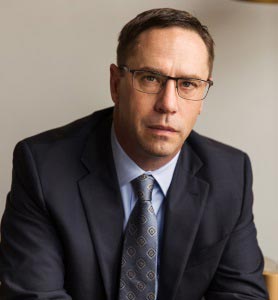 Dealing with the repercussions of an accident can be overwhelming and confusing. If someone else's negligence caused the accident, you should not have to bear the entire burden. The law allows injury victims to hold the responsible party accountable for the accident. In such cases, a Washington personal injury attorney can help you understand the legalities of your case.
A Washington personal injury attorney at Bungay Law will help you get the financial compensation you deserve. Our comprehensive approach ensures maximum compensation to clients.
Washington Personal Injury Attorney Advocating For The Rights Of Victims
At Bungay Law, our team of passionate and experienced legal advocates is dedicated to fighting for the rights of injury victims. We understand the physical, emotional, and financial toll an accident can take on you and your family.
Our mission is to help victims get their lives back by holding the negligent party accountable.
The principal attorney, Adam Bungay, is a former insurance defense lawyer who knows how insurance companies operate and what tactics they use to deny claims.
He has the experience to provide clients with the full and fair compensation they deserve. When you choose Bungay Law, you can rest assured that we will fight tirelessly to uphold your rights and maximize your case value.
What Sets Bungay Personal Injury Law Apart From Other Seattle Injury Law Firms?
Expert Negotiator: We have extensive experience in negotiating compensation with even the toughest insurance adjusters.
Careful Evaluation: We carefully evaluate each claim and only choose to represent those we believe in.
Diverse Legal Experience: Our team has tried cases in various areas of law, including personal injury, product liability, medical malpractice, and more.
In-Depth Understanding: We know how insurance companies think and operate. This knowledge is used to build a compelling case that ensures the insurer pays the full and fair amount deserved.
How Can Our Washington Personal Injury Lawyer Help You?
Our Washington personal injury lawyer can help you in many ways:
• Meticulous Case Investigation: We go above and beyond to collect all the evidence and gather the witness statements needed to build a strong case.
• Case Value Estimation: We will collaborate with medical experts to estimate the current and future costs of your medical bills, lost wages, pain and suffering, and other damages.
• Legal Groundwork: We will handle all the paperwork and legal filings related to your claim so you can focus on your recovery.
• Trial Representation: If the insurance company refuses to give you a fair settlement, we will take your case to trial and fight for just compensation.
What is a Personal Injury Claim?
A personal injury claim is a legal request made by an accident victim against the person or entity responsible for the incident. Filing a personal injury claim aims to recover financial compensation for damages caused by accident.
For example, if you sustain a severe injury after colliding with a drunk driver, you can file a personal injury claim against them to recover damages, including hospital bills, lost wages, pain and suffering, etc.
Why Should You Choose Bungay Personal Injury Law to Handle Your Seattle Personal Injury Case?
Choosing the appropriate law office for your case is an important decision. Ensure that you have a knowledgeable and experienced attorney who believes in your case and will fight for you.
At Bungay Law, we have experience handling diverse personal injury claims. Here is what you can expect when you entrust your case to our attorney:
Knowledge of insurance delaying tactics: Insurance companies will often try to delay or deny claims. However, we know their usual tricks and will fight to get you the compensation you deserve.
Free Consultation and Contingency Fee: We offer a free consultation so you can learn more about your legal options without any obligation. In addition, we function on a contingency fee basis, meaning you only have to pay if we win your case.
More than $30 Million Recovered: We have recovered more than $30 million in compensation for clients. We can help with your claim to recover the full value of your damages.
How Do I Know if I Have a Valid Personal Injury Claim?
Personal injury claims are based on the legal theory of negligence. To have a viable claim, you must show proof that the other party was negligent and that it led to your injuries.
There are four essential elements of negligence:
Duty of Care: You must show that the other party had a duty to exercise reasonable care to avoid causing you harm.
Breach of Duty: You must show that the other party breached their duty of care by acting unreasonably, thereby causing you an injury.
Causation: You must show that the other party's negligence was the direct cause of your injuries.
Damages: To recover compensation, you must have suffered harm, such as physical injury, emotional distress, or property damage.
Consulting with a personal injury lawyer is always recommended if you are unsure whether you have a valid claim.
What Are the Potential Damages Victims Can Recover in a Personal Injury Claim in Washington?
In Washington, the damages that victims can recover in a personal injury claim are classified as either "economic" or "non-economic". Examples of economic or financial damages are:
• Medical Expenses: Hospitalization fees, ambulance fees, medication costs, and more.
• Lost Wages: If the victim is incapacitated and cannot work because of their injuries, they may recover lost wages.
• Property Damage: The victim may recover the cost of repairing or replacing any property damaged in the accident.
On the other hand, non-economic damages are classified as damages unrelated to monetary loss. Examples of non-economic damages are:
• Pain and Suffering: This is compensation for physical and emotional suffering from the accident.
• Loss of Quality of Life: If the victim cannot enjoy their usual hobbies or activities because of their injuries, they may be reimbursed for a diminished quality of life.
On some occasions, the court may also award punitive damages to the victim to punish the defendant for extreme negligence.
What Are the Most Common Types of Personal Injuries in Washington?
The most common types of personal injuries in Washington are:
Bicycle Accidents
Truck Accidents
Motorcycle Accidents
Pedestrian Accidents
Uber Accidents
Medical Malpractice
Construction Sites Incidents
If a person you know has been injured in an accident due to another's negligence, call Bungay Law to speak with our Washington personal injury attorney for a free consultation. We have experience in representing various personal injury claims and will fight to get you the compensation you deserve.
What is the Statute of Limitations for Personal Injury Cases in Washington?
According to the Revised Code of Washington section 4.16.080, the statute of limitations for personal injury cases in Washington is three years. In short, the victim has three years from the date of the accident to file a personal injury claim.

If the victim does not file a claim within this time frame, the court will most likely prevent them from recovering compensation for their injuries. Therefore, consulting with a Washington personal injury lawyer as soon as possible is essential to building a strong case.